Transitional Floor moldings are accessories usually used to add a smooth bridge between two floors either of the same or different height. It is rare that a new floor will be installed without at least one transitional molding. Whether you're separating two rooms, finishing a step or meeting tile or carpet, you will definitely need a molding piece to finish your floor. Verion Floors offers an extensive line of transitional molding that matches every species/color in Hardwood, Engineered, Bamboo, Cork and Laminate floors. We also offer stair treads, risers and floor vents in standard sizes or custom made to your specifications. All moldings are available either pre-finished or unfinished. Please call us toll-free at 1-800-674-8088 to discuss your molding needs.
Below are the specifications for all the transitional molding available for your floors:
---
STAIR NOSE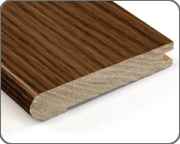 Also called BULLNOSE; it is used mainly as a transition for a step down level, landings and top stair. It adds a professional smooth finished look and is designed to catch the brunt of foot traffic while maintaining the overall beauty of the step. It is made with a groove that fits perfectly with the tongue of the flooring.
Stair noses are available for all types of flooring and come in various thickness, widths and lengths. It is always recommended to purchase transitional molding from the same brand as your floor to perfectly match the finish and size.
---
SURFACE REDUCER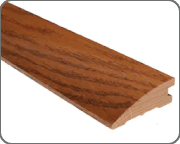 Hard surface reducers are usually used as a smooth bridge that transitions down from the surface of the new floor to the surface of the sub-floor. They can always be used if the base is a concrete slap, vinyl, low-pile carpet or even tiles.
Hard surface reducers must be the same thickness as the installed floor for the tongue and groove to match perfectly. If your new floor meets a floor that is higher than the base, it is recommended to either use an OVERLAP REDUCER or a THRESHOLD.
---
T-Molding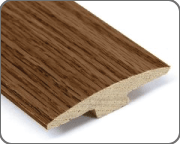 Also referred to as SADDLE, T-moldings provide an attractive transitioning solution between floor surfaces in adjoining rooms. They are designed for use in doorways and borders where floors of the same height meet.
---
THRESHOLD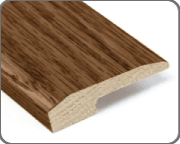 Thresholds are simply a smooth bridge between a higher and a lower floor. They can also be used when hardwood and carpet or tiles meet. Thresholds usually cover the gap between the two floors and the bottom lip can always be shaved for a perfect fit over the lower floor. They can also be reversed if the tiles are higher than the wood floor.
---
OVERLAPPING STAIRNOSE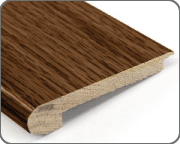 Overlapping stair noses are usually used with either floating engineered or laminated floors as a transition over a step or a landing. The end lip is made to cover the floor while the rest of the nosing sits atop the base and around the edge of the step. Overlapping stair noses are usually glued to the base, not the floor to allow for proper expansion of the covered floor.
---
OVERLAPPING REDUCER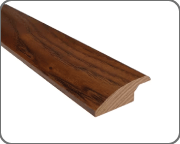 Overlapping reducers are also used with floating or laminate floors when a gradual transition between two floors of different height occurs. They should always be glued to the base to allow for the expansion of the covered floor.
---
QUARTER ROUND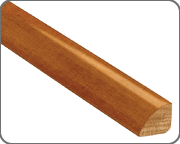 Also known as SHOE molding; Quarter rounds are usually used to cover the expansion gap between the floor and any vertical surface like walls, French doors or even steps. Quarter rounds are usually 3/4" X 3/4" while shoe moldings are 1/2" X 1/2".
---
STAIR TREAD
Stair treads are the top solid pieces of hardwood that cover every step in your staircase. They are usually manufactured with a rounded front front edge that works as a bullnose. Stair treads are usually 1 1/4" thick X 11" deep and vary in length from 36" to a staggering 96".
There are two types of treads; UNIVERSAL treads bullnose returns on both sides of the treads & STANDARD treads with no returns on either side.
We also offer starter steps and custom made treads that can be cut to your specifications; please call 1-800-674-8088 for more details on our custom made program.
---
STAIR RISER
Risers are the solid pieces of hardwood that are placed vertically at the end of every step. They are available in either 1/4" or 3/4" X 7" high and vary in length as well from 36" to 96". Verion Floors offer custom made risers to your own specifications including risers with returns. Please call 1-800-674-8088 for more details on our custom made program.
---
AIR VENT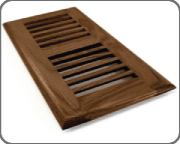 Also known as GRILLS; air vents are used to cover opening duct in the floor for a smooth continuous look. They are available in two shapes; (A) Flush Mount vents are milled to fit in your floor for a flat surface so they should be installed at the same time as your floor. They come in two parts, vents and frame. (B) Surface Mount vents come as one part that sit on top of the floor.
Verion Floors offer custom made air vents to your specifications in any species, style or color you need. Please call us at 1-800-674-8088 for more details.