There's always one aspect that defines one home improvement material from all others; that is QUALITY. Anything less is nothing but a waste of money and valuable time. Quality is Craftsmanship; that simply means years of satisfaction and peace of mind with a product for you and your family. It is an investment that should add value to your home and nothing adds more value and beauty like quality-crafted hardwood floors.
We have researched and tested the quality and craftsmanship of every brand in our showroom. We hand selected only the ones that had the best reputation and most responsible manufacturing process. They are those brands with features and aspects that define quality, creativity and solid craftsmanship. We are honoured to offer you those brands and we know you will be satisfied with your investment in any one of them. We guarantee it.
Here's a glimpse of what you get when you choose one of these brands:
---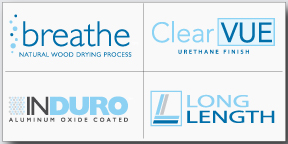 INDUSPARQUET: The Leader in Exotic Floors
For over 30 years, IndusParquet has always been known as the award-winning leader in the exotic flooring industry. Their extensive product lines of solid hardwood, engineered and handscraped floors are the standard for all others. Always imitated, never matched; IndusParquet is simply the leader of innovative styles that bring creativity and indifference but above all, world class craftsmanship.
IndusParquet is one of the very few mills in the world that constantly test and update its floor with new styles and innovations that simply sweeps almost all awards of quality and excellent.
Browse the IndusParquet Exotic Flooring Gallery page.
---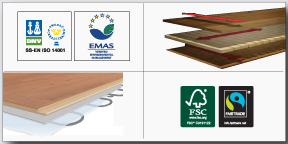 KAHRS: Eco-Friendly Hardwood Flooring
With more than 150 years of experience; Kährs is one of the oldest & most innovative flooring manufacturers in the world that always introduces ground breaking wood flooring technologies.
All Kährs wood flooring is based on Kährs patented engineered flooring construction and is made up of multiple layers. This makes the floor more stable even when temperatures and ambient humidity vary according to season. Kährs patented its parquet technology in 1941, and since then they have been using it in all their flooring.
Kährs engineered flooring is also eco-friendly as they use fast-growing wood species such as pine for their core material. Thereby reducing the use of the valuable hardwood surface layer which you see and walk on as required for solid flooring.
Browse the Kährs Wood Flooring Gallery page.
---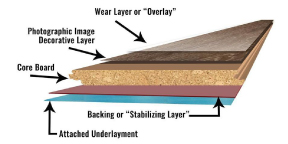 KRONOSWISS: The Original European Laminate
Swiss Krono is one of the largest European manufacturers of laminate flooring. Since 1966, the company has been implementing vigorous environmental applications, creative manufacturing ways & world renowned techniques to present the market with the best & most reliable floor. KronoSwiss offers various collections ranging for a value 8mm to a rich 12mm thickness with most floors in a staggering 7" wide plank. With countless awards for quality & innovation, KronoSwiss is definitely a name you can trust when buying a laminate floor.
---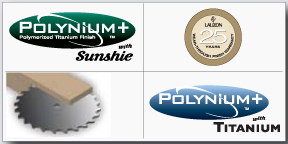 LAUZON: Distinctive Hardwood Flooring
For over 32 Years, Lauzon gained a reputation that is built on excellence, reliability and new product solutions that maintained its competitive edge in the flooring market. As an industry leader, with its fully-integrated operations from forest regeneration, harvesting and recycling operation to state-of-the-art manufacturing, kiln drying and finish lines; Lauzon offers a broad variety of pre-finished floors that are second to none. Both their solid and Nextstep fusion engineered floors feature a revolutionary Polynium PLUS which is an exclusive polymerized titanium finish; including Sunshield which is a unique in-wood treatment that minimizes color changes as a result of exposure to the sun.
Lauzon Floors also offer Ultra-Fresh for long lasting protection against micro-organisms that can cause odors, stains and deterioration. But best of all, their phenomenal precision-milling is the one that impressed us most. Lauzon floors are backed by a lifetime structural and a 25-year wear-thru finish warranties. NextStep Fusion engineered offer an additional three year commercial warranty.
Browse the Lauzon Distinctive Flooring Gallery page.
---
MANNINGTON: Distinctive Hardwood Flooring
Since 1915, Mannington has been recognized as one of the industry leaders in quality flooring. Mannington offer a 2nd to none variety of floors including Hardwood, Vinyl & Laminate planks & tiles. Mannington is known for their innovative styles & they usually sets the flooring trends. Mannington offers one of the best & most durable finishes & back it up with an assuring 50 year warranty.
Mannington is one of the best & largest flooring American manufacturer in the market with product lines including engineered wood floors, vinyl floors, & Laminate floors as well as adhesives & other flooring accessories. Mannington offers their floors in a wide variety of thicknesses, widths & colors that is designed to intrigue your mind & test your decorating senses. Please browse the expansive variety of floors below & let us know if you have any questions. We are Mannington enthusiasts & would always love to discuss their products. Enjoy.
Browse the Mannington Flooring Gallery page.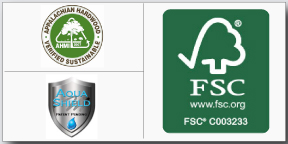 MULLICAN: The Clear Leader of Flooring Mills.
Mullican floors offer one of the largest selections of hardwood flooring materials in the world. Their collections of solid, engineered, hand crafted, wire brushed and floating floors from the four corners of the world are matched by no other global manufacturer. For over two decades; Mullican has built a reputation on quality floors that are diverse, exquisite and stylish yet extremely affordable. Mullican floors are finished with Alpha A'Lumina ™; a revolutionary finish that highlights the rich tones of every planks of wood and easily stands the test of time.
Browse the Mullican Flooring Gallery page.
---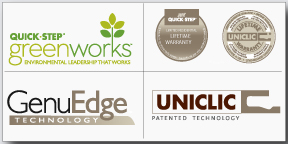 QUICK-STEP: Amazing What A Floor Can Do!
Quick Step is hands down the largest laminate floor manufacturer in the world. It offers a diverse collection of styles and colors that can not be matched by any other laminate manufacturer. For the past two decades, Quick Step has been the leader in innovative ways that introduced laminate floors in every color and shape anyone can imagine. The quality, durability and ease of installation are second to none and the lifetime warranty simply assures you of a laminate floor that will outlast any environment it is installed in.
Browse the Quick-Step Laminate Flooring Gallery page.
---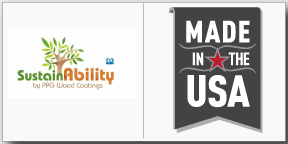 SOMERSET: Floors of Tomorrow, For Today!
With over 25 years of constant success in the Hardwood Industry; Somerset has grown to be one of the most trusted names in flooring. Somerset Floors' operation is vertically integrated from the plantation to the finished Product with state of the art milling and finishing technologies and computer-controlled kiln-drying process, the result is a quality floor you will enjoy for generations to come. Verion Floors offers the complete line of Somerset floors including the solid, engineered and country hand-scraped collections.
Browse the Somerset Hardwood Flooring Gallery page.
---
---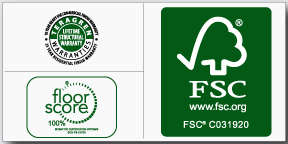 TERAGREN: Versatile Bamboo Flooring
Since 1994, Teragren has made a set of standards that made it a pioneer in the bamboo flooring industry. Teragren bamboo floors have been rated the highest in quality and craftsmanship with innovative ways that produced bamboo more durable than oak and mahogany. Teragren holds the patent for STRAND WOVEN and BAMBOO PARQUET as two of the most exciting Eco-Friendly flooring solutions in the past decade. It is the only bamboo manufacturer in the world that offer commercially rated, LEED certified flooring. Teragren constantly evaluate and update their product lines, always coming up with new award-winning styles that are simply intriguing and guaranteed to perform with excellence in any environment.
Browse the Teragren Bamboo Gallery page.
---
Please call us toll-free @ 1-800-674-8088 if you have any questions about the quality and reputation of any of the brands displayed in our showroom or on our website. Thank you.