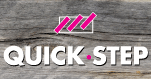 Manufacturer of: Premium Laminate Floors | Country: USA

Quick-Step is one of the largest & most reputable manufacturers of laminate flooring in the world. The variety of options they offer is simpoly breath-taking. From traditional 5/16" smooth 3-strip to the state-of-the-art 1/2" 1-strip hand crafted wide planks, and with lengths up to 80", their laminate floors are truly one-of-a-kind. Quick-Step offers options in over 100 different colors, styles, species & finish. If you are looking for one of the best laminate floors; you are sure at the right place. Please browse their expansive variety & let us know which ones intruige your senses. Enjoy.
Please browse the Quick-Step Gallery page.
---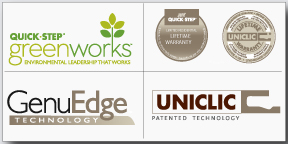 Why Choose Quick-Step Laminate Floors?
See the Quick-Step Gallery page.
Quick Step is hands-down the largest laminate floor manufacturer in the world. It offers a diverse collection of styles and color that can not be matched by any other laminate manufacturer. For the past two decades, Quick Step has been the leader in innovative ways that introduced laminate floors in every color and shape anyone can imagine. The quality, durability and ease of installation are second to none and the lifetime warranty simply assures you of a laminate floor that will outlast any environment it is installed in.
Verion Floors is proud to bring you the entire line of Quick.Step laminate floors delivered to your door. Please call us for a price quote.