Hardwood Floors
See Samples >>
Vinyl Floors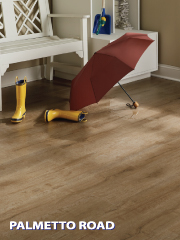 See Samples >>
Laminate Floors
See Samples >>
Why Choose Palmetto Road Flooring?
Palmetto Road ground breaking designs are brought to life in such brilliant detail, they are often mistaken for the real thing. MasterWorks Technology and MasterWorks Technology with VTx™ surface texture create the clearest images, most vibrant colors and most realistic designs in flooring.
Palmetto Road wear protection means you can live life comfortably on your floor without living in fear of damaging it. Our VisionGuard® wear surface helps protect against scratches, surface spills, stains, fading, scrapes and wear-through and makes cleaning stress free.
Verion Floors is delighted to bring you the entire line of Palmetto Road floors delivered to your door.