Ambiance | Maple
See Samples >>
Ambiance | Red Oak
See Samples >>
Ambiance | Yellow Birch
See Samples >>
Designer | Atlantis
See Samples >>
Designer | Authentik
See Samples >>
Designer | Emira
See Samples >>
Designer | Homestead
See Samples >>
Designer | Hamptons
See Samples >>
Designer | International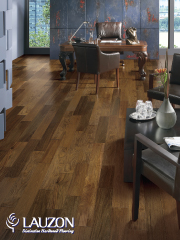 See Samples >>
Designer | Line Art
See Samples >>
Designer | Memoire
See Samples >>
Designer | Organik
See Samples >>
Designer | Reserva
See Samples >>
Designer | Urban Loft
See Samples >>
Essential
See Samples >>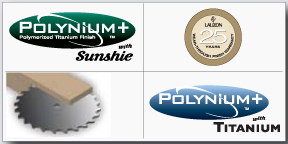 Why Choose Lauzon Floors?
See the Lauzon Gallery page.
Renowned for its exceptional clarity and resistance to damage, Lauzon's Polynium + with Titanium Traffic finish allows the wood's original beauty and vibrancy to shine through, along with long-lasting abrasion resistance to maintain the wood floor's original appearance – more resistant than any other leading brand. Lauzon floors offer an easy-to-clean surface which uses nanotechnology to quickly disperse surface dirt.
Unlike any other engineered floors, Lauzon's NextStep floors look like solid hardwood floors, thanks to a dry solid-sawn process that ensures an expert cut of kiln-dried wood for the top layer. With a dry solid-sawn process, the natural color variations, consistency and beautiful grain of the species are maintained, and the floor can be re-sanded if necessary. Lauzon engineered floors are available in either a micro-bevel or straight edge.
LAUZON offers scientifically-proven antimicrobial protection for all its wood flooring products. Laboratory tests have shown the effectiveness of Ultra-Fresh in providing long-lasting resistance against microbes, bacteria, surface mold, odors, mildew and fungi, which are not only a potentially-harmful nuisance to home-dwellers, but can cause deterioration of the wood. This treatment is part of Lauzon's Polynium + with Titanium Traffic standard finish, thereby offering superior protection.
Lauzon offers a lifetime structural warranty on all solid and engineered floors, a 25-year wear-through finish warranty on all floors, and a 5-year wear-through finish warranty for light commercial applications on all engineered floors.
Verion Floors is proud to bring you the entire line of Lauzon floors delivered to your door.