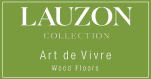 Manufacturer of: Solid & Engineered Floors | Country: CANADA
Lauzon is probably the best flooring manufacturer in canada, if not the world. The quality of the floors has been 2nd to none for over 20 years. They offer solid domestic & exotic solid as well as engineered hardwood. Their Titanium Polynium Plus finish has been the talk of the trade for over 15 years. Their milling is absolutely phenominal & is always a breeze for installers. Backs with a 35 years residential finish warranty, Lifetime structural warranty, FSC certification for their maple flooring & a guarantee for installation over radiant heat (Fusion Engineeered Floors). Lauzon offers their floors in two unique grades; SELECT & PACIFIC. Select grade is free of dark minerals, streaks & knots. Pacific grade have some minerals, visible variations in color & maybe some small knots. Their floors come a standard 3/4" solid or 7/16" engineered with a thick 3MM wear lay. Lauzon offers their floors in a variety of distinctive collections as well; please click on each picture to see available styles.
Please browse the Lauzon Gallery page.
---
Essential | Maple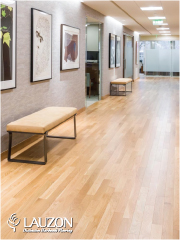 See Samples >>
Essential | Red Oak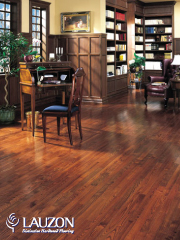 See Samples >>
Essential | Yellow Birch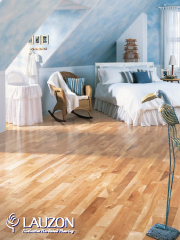 See Samples >>
Floor Gallery
See Samples >>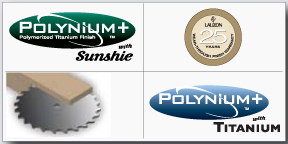 Why Choose Lauzon Floors?
Renowned for its exceptional clarity and resistance to damage, Lauzon's Polynium + with Titanium Traffic finish allows the wood's original beauty and vibrancy to shine through, along with long-lasting abrasion resistance to maintain the wood floor's original appearance, more resistant than any other leading brand. Lauzon floors offer an easy-to-clean surface which uses nanotechnology to quickly disperse surface dirt.
Unlike any other engineered floors, Lauzon's NextStep floors look like solid hardwood floors, thanks to a dry solid-sawn process that ensures an expert cut of kiln-dried wood for the top layer. With a dry solid-sawn process, the natural color variations, consistency and beautiful grain of the species are maintained, and the floor can be re-sanded if necessary. Lauzon engineered floors are available in either a micro-bevel or straight edge.
LAUZON offers scientifically-proven antimicrobial protection for all its wood flooring products. Laboratory tests have shown the effectiveness of Ultra-Fresh in providing long-lasting resistance against microbes, bacteria, surface mold, odors, mildew and fungi, which are not only a potentially-harmful nuisance to home-dwellers, but can cause deterioration of the wood. This treatment is part of Lauzon's Polynium + with Titanium Traffic standard finish, thereby offering superior protection.
And for the environmentally enthusiast; Lauzon now offers PureGenius finish. It is a light-activated, air-purifying agent made of Titanium Dioxide (TiO2) & integrated into Lauzon's Titanium floor finish. Activated by natural and artificial light, it breaks down toxic contaminants (VOCs) on contact and transforms them into harmless molecules. Its constant and consistent action is so effective over time; it makes indoor air up to 85% cleaner.
Verion Floors is proud to bring you the entire line of Lauzon floors delivered to your door.
---